A quick HAPPY BIRTHDAY shout-out to my son Andrew.
OH YEAH...THE MAN, THE MYTH, THE LEGEND IS NINETEEN...TODAY !
In 1998, I met Mark McGuire. No, not Mark McGwire the disgraced home run champion who gained his unworthy notoriety by using performance enhancing drugs (PED's). The Mark Maguire I met, was the world's nicest man.
Far from the national spotlight, this Southern gentleman owned a junkyard in Temperanceville Virginia. My encounter with him was so ultra-positive that I wrote a blog (June 1, 2009) about my experience called,
"THERE'S TWO MICHIGANS?"
From that story, I also got my best reader comment
ever
when I mentioned actor Woody Strode.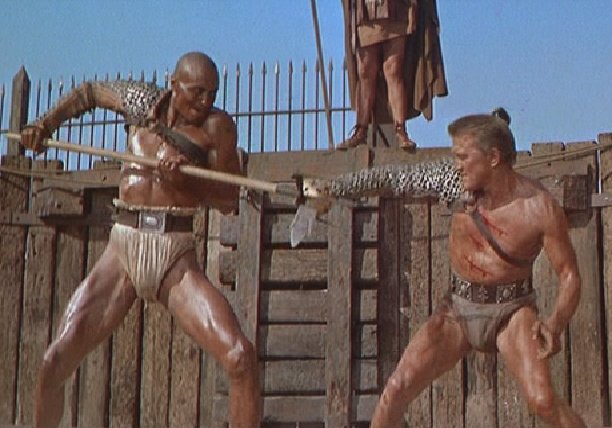 WOODY STRODE (1914-1994) STARRED WITH KIRK DOUGLAS IN 1960's, "SPARTACUS." STRODE'S MAGNIFICENT PHYSIQUE HELPED HIM ENJOY A LONG, SUCCESSFUL CAREER IN HOLLYWOOD. WHEN HIS DAUGHTER READ MY BLOG, SHE THANKED ME AND SENT ALONG ADDITIONAL GREAT INFORMATION ABOUT HER DAD.
The power of meeting such a wonderful man and getting terrific feedback from the blog about him was hindered by two terrible circumstances. The first was, suffering a blown-out tire at high speed which brought me to McGuire's. The second, (which was
not
mentioned in "There's two Michigans?") was the unbelievable stench that affected a long stretch of the roadway (Lankford Highway, Route-13), that passed by the junkyard.
I didn't ask McGuire about the awful odor. But I did farther south when we made a pit stop at a roadside fruit stand, in the town of Accomac. My wife, son and myself all got refreshed and then I bought peaches, grapes and cherries. I asked the salesgirl what the bad smell was and she said, "Poultry processing plants." I said, "Heh?" She said, "Slaughterhouses. Perdue has one here and y'all passed Tyson's back yonder."
MY FIRST REACTION TO THIS PUTRID OFFENSE TO MY NOSE WAS TO EAT SOMETHING LIKE THE FAKE CHICKEN (above) BEFORE EVER EATING THE REAL THING AGAIN.
The truth is, I could never give up chicken. I could easily list fifty different ways I like it prepared and I could probably tell you more, (the exception being my mom's infamous, "twice boiled" chicken).
INTERESTINGLY, MOM SERVED THIS CONCOCTION ON THURSDAYS WHEN DAD WORKED LATE. I THINK THE KEY TO THIS RECIPE WAS TO BOIL ALL THE FLAVOR OUT OF THE CHICKEN. THEN WITH WHATEVER TASTINESS THAT MIGHT HAVE SURVIVED, THE LIQUID WAS POURED DOWN THE DRAIN. FINALLY, FRESH WATER WAS ADDED AND THE CHICKEN WAS REBOILED...THUS RENDERING THE WHOLE BALL OF WAX...DEVOID OF ENJOYABILITY.
In my youth, the real treat was Chicken Delight.
TODAY THE COMPANY FEATURING; CHICKEN, PIZZA AND RIBS, IS BASED IN WINNIPEG MANITOBA CANADA. ITS FRANCHISES, (MAINLY IN THAT AREA AND NEW YORK CITY), PROVIDE EAT IN, TAKE OUT AND DELIVERY. THE ORIGINAL, MUCH LARGER COMPANY OPENED 1952. BY THE LATE 1960's, THERE WERE 1000+ LOCATIONS. THEY WERE KNOWN FOR THE CATCHPHRASE, "DON'T COOK TONIGHT, CALL CHICKEN DELIGHT." AND FOR HAVING THEIR DELIVERIES DONE IN PLYMOUTH VALIANTS OR VW BEETLES WITH A HUGE PLASTIC CHICKEN ON THE ROOF.
In my sophomore year of high school, the tedious six short block, three long block walk home was made better by buying ten, two-cent Reese's Cup mini's. Then my friend Lee Richardson told me it was chic to walk a block in the wrong direction, to get a better snack at Chicken Delight. A whole meal was too expensive and wasn't conducive to travel but splitting a giant bag of 35c French fries was both cost affective and simple to handle. Hell, just being in their store for its sweet scent was orgasmic.
Kentucky Fried Chicken (KFC) was also established in 1952 (but maybe because they didn't deliver), they didn't get off to the same good start as Chicken Delight. In my childhood, there weren't any KFC's in Canarsie so even though it had surged past Chicken Delight in popularity, I would be thirteen before I ever ate some.
"COLONEL" HARLAN SANDERS (1890-1980) CREATED KENTUCKY FRIED CHICKEN AND WAS THE FACE OF HIS OWN SELF-MADE EMPIRE.
My first taste of Kentucky Fried Chicken was when my uncle included me at the company outing where he worked. Shortly after our buses arrived at Bear Mountain State Park, (near West Point, New York) some ladies started lining up the red and white buckets of KFC on picnic tables. The wonderful aroma beckoned me closer. I had seen the TV commercials and like Pavlov's dog, my mouth watered. One of the women setting up the feast noticed me salivating. She pulled away from the giant vat of Funny Face soft drinks she was preparing and said, "We won't be having lunch till after noon."
FROM THE MID 1960's TO THE LATE 70's, "FUNNY FACE" POWDERED DRINK MIX WAS A COMPETITOR OF KOOL-AID. EACH FLAVOR HAD THEIR OWN NAME LIKE; LEFTY LEMON, LOUD MOUTH LIME AND ROOTIN' TOOTIN' RASPBERRY. TO BE POLITICALLY CORRECT, TWO OF THE ORIGINALS FROM 1964, CHINESE CHERRY AND INJUN' ORANGE WERE RENAMED IN 1966, TO CHOO-CHOO CHERRY AND JOLLY OLLY ORANGE.
My eyes remained transfixed on the KFC buckets. I could only imagine the look of desperation I must have had on my face when the lady called me Tantalus. I wasn't clever enough at that age to know if I was being insulted. When she saw that the dumbfounded expression on my face didn't change, she explained who Tantalus was.
TANTALUS WAS A GREEK MYTHOLOGICAL FIGURE. HE WAS FAMOUS FOR THE ETERNAL PUNISHMENT OF STANDING IN A LAKE BENEATH AN APPLE TREE WITH LOW BRANCHES...WITH THE FRUIT JUST BEYOND HIS REACH (AND THE WATER RECEDING EVERY TIME HE WANTED A DRINK). THE WORD "TANTALIZE" IS DERIVED FROM TANTALUS. (Above) GIOACCHINO ASSERETO'S 1640's PAINTING OF TANTALUS HANGS TODAY, IN THE AUCKLAND (NEW ZEALAND) ART GALLERY.
I paced like a nervous tiger as I stalked my glorious lunch. When the announcement was made, I pounced and went to town on the Colonel's drumsticks, French fries and biscuits. I was too young to be embarrassed so every now and then, I returned to graze the remnants of the embattled picnic tables. They must have brought too much chicken because while the men grumbled that all the quart bottles of Ballantine Ale were empty, I had free reign to keep packing the calorie avalanche in.
MOST OF YOU KNOW AND LOVE ME TODAY AS A SVELTE, MEAN, LEAN FIGHTING MACHINE. BUT I MUST CONFESS, IN MY ADOLESCENCE I FREQUENTLY BINGED ON WHATEVER WASN'T NAILED DOWN AND WAS QUITE PUDGY.
Down through the years, my passion for Kentucky Fried Chicken comes and goes. So when it comes, I can relate to the hilarious, "I hate Colonel Sanders," scene from the two and half star, 1993 movie,
"SO I MARRIED AN AXE MURDERER."
Mike Myers (in a dual role as the dad, Stuart Mackenzie and the son Charlie Mackenzie), speaks as the Scottish father, in a heavy accent of his obsession for Kentucky Fried Chicken.
CLICK ON THE LINK BELOW TO SEE THE 51 SECOND VIDEO.
http://www.youtube.com/watch?v=TPMS6tGOACo
Could the elder Mackenzie be right? What if it's true that an addictive chemical is added to the chicken to make you crave it fortnightly? I never considered the possibility of a great Colonel Sanders conspiracy until I saw a current KFC commercial for its "chunky" chicken pot pies.
IT'S A STUPID AD BUT THEY MUST HAVE EMBEDDED A SUBLIMINAL MESSAGE BECAUSE I FELT AN IRRESISTIBLE URGE FOR CHICKEN POT PIES THAT I NEVER FELT BEFORE. TO PROVE MY POINT, THE NEXT DAY, I CRAMMED MY FREEZER WITH BANQUET (BRAND) CHICKEN POT PIES...AND TO TELL YOU THE TRUTH, IT'S GOING TO STAY THAT WAY BECAUSE THEY WEREN'T VERY GOOD. THAT MEANS, I'LL BE TAKING A TRIP TO KFC TOMORROW, TO GET THE REAL THING.
So what is this power that the Colonel and his secret recipe have over me (us)? Well in 2000, the results of an investigation led people to believe...that what KFC serves...is
NOT
chicken. That's right, straight from Dr. Frankenstein's laboratory, it's the Colonel's newest recipe, genetically modified, mutant chickens.
These beasts are said to be bred so they are born with larger (meatier) breasts and six legs. At the same time, they are pumped with chemicals so that they are born without inedible body parts like; beaks, feathers or feet....while still tasting like...chicken!
Please read the following article and then decide if KFC is just naturally,
finger lickin' good
or if the diabolical urban legend, (complete with an injection of addictive chemicals), is a true story.
Does KFC Use Real Chickens?
KFC has been a part of our American traditions for many years. Many people, day in and day out, eat at KFC religiously. Do they really know what they are eating? During a recent study of KFC done at the University of New Hampshire, they found some very upsetting facts.
First of all, has anybody noticed that just recently, the company has changed their name?. Kentucky Fried Chicken has become KFC. Does anybody know why?. We thought the real reason was because of the "FRIED" food issue. It's not. The reason why they call it KFC is because they can not use the word chicken anymore. Why?
KFC does not use real chickens. They actually use genetically manipulated organisms. These so called "chickens" are kept alive by tubes inserted into their bodies to pump blood and nutrients throughout their structure. They have no beaks, no feathers, and no feet. Their bone structure is dramatically shrunk to get more meat out of them. This is great for KFC because they do not have to pay so much for their production costs.
There is no more plucking of the feathers or the removal of the beaks and feet. The government has told them to change all of their menus so they do not say chicken anywhere. If you look closely you will notice this. Listen to their commercials, I guarantee you will not see or hear the word chicken. I find this matter to be very disturbing. I hope people will start to realize this and let other people know. Please forward this message to as many people as you can. Together we make KFC start using real chicken again.
So what do you think? Does the Colonel really make chicken right? Or are those slaughterhouses along the Atlantic Coast of Virginia
fowling
up our air with something other than chickens? Maybe I'll reintroduce myself to Mark McGuire...as the "Nicest Man in the World," I doubt he'd be too chicken to tell me the truth.