I once vented to a pit boss friend in Las Vegas. He said, "What do you want me to do about it?" I shrugged, "Nothing...I'm just saying..." He said, "I'm willing to listen when you want to get something off your chest...but if you don't have a solution...then you're complaining...and nobody likes a complainer." With that in mind, what I am doing in this blog is venting...because I do have a solution...and it's brilliant.
Don't be mislead by all the sports-speak...this blog is about money, BIG money.
Where do you stand on the;
which came first, the chicken or the egg
debate? I never got involved...but when I was nine...way before I knew about copyright infringement laws...I thought it was stupid to have two baseball teams named after socks.
At the turn of the twentieth century there weren't many team ideas to violate. You would think that a bright owner would want to cut-out his own niche even if he had to hire a public relations officer or an advertising agency to capitalize on what would later be called,
his
cleverness.
Regardless of which came first, naming your sports team (business) after hosiery...doesn't strike fear into the heart of an opponent. So copying an existing moronic idea and making your team a second team emblematic of socks, is asinine. This acute lack of imagination is laughable. Hence the white or red color of those socks is purely insignificant.
For the record, the Chicago White Sox originated in 1901 as the White Stockings. They changed their name to the White Sox in 1903. The Boston Red Sox also started in 1901...as the Red Stockings. So the decision-making genius in Boston should be ashamed for not creating an individualized identity when the name was changed (1908) to the Red Sox.
THIS LOGO WAS WORN ON THE 1908 BOSTON'S RED SOX UNIFORM SOCKS.
Of course both sox teams are weasels because the original Cincinnati Reds named them self the Red Stockings in 1876 (before officially shortening it, in the 1890's). So both sox are guilty of name stealing.
In my early teens, I used to watch Canadian Football League games on TV. Strangely, they had two teams called the Roughriders. The Ottawa Rough Riders (two words) were named in 1898. To the confusion of many and attracting ridicule to the CFL, (a league with only eight...or sometimes nine franchises), a new team from Saskatchewan took the Roughrider name (one word), in 1924.
CFL ACTION FROM 1924, THE TORONTO ARGONAUTS VERSUS THE OTTAWA ROUGH RIDERS.
Upon closer examination, the management of
both
teams are worms because Ottawa, after the 1924 season, changed their name to the Senators. Therefore, Saskatchewan showed zero originality by adopting the pre-existing nickname. Then Ottawa made things worse by restoring the Rough Riders and creating this curious duplication, five years later. But wait...they are both stupid because the whole Canadian identity is lost by naming their teams after an American, Theodore Roosevelt and his 1898 regiment from the Spanish-American War.
The National Football League had the interesting case of the Chicago Cardinals. From the 1920's, they successfully competed in the same city as the Bears. However, by the 50's, their status diminished badly after they won only thirty-three games, (in that decade)...causing the bottom to fall out of their fan base. The team was staring down the threat of being disbanded but chose instead to relocate. Coincidentally, they picked a city (St. Louis) that already had a baseball team called the Cardinals. Rather than turn their back on their dismal past, they retained the nickname. Part of their rational was...
are you sitting
...the Chicago Cardinals were name after the color "cardinal'...not the bird.
I think it would be fun to name my own team. It would give me a chance to show my ingenuity and perhaps set-up a marketing strategy to sell my team's licensed mechanise. If I had a team in Georgia and I wanted a pork slaughterhouse to sponsor me, I'd call my team, the Macon Bacon. The Arkansas Razorbacks and Lehigh Valley Iron Pigs are named after swine too but I'd never be accused of stealing their idea.
If I was really cutting edge and starting a co-ed team in either Mississippi or New Jersey, I could call them...the Jackson Jills.
MY JACKSON JILLS TEAM COLORS WOULD BE EQUALLY BLUE AND PINK. THIS TEAM IS FROM PORTLAND OREGON...I WONDER IF THEY'D BE WILLING TO TRAVEL TO JERSEY?
I say there is a fortune to made off a cool team name, a great mascot and selling team apparel. At this time, there is expanding Hispanic heritage and awareness in our country, so to name a team in central Florida, the Orlando Cepedas would be a marketing bonanza.
At least the fans of my teams would understand that
greed
a meaningful reason was the inspiration of the team nickname.
If I was to concentrate on my native New York, I could demonstrate that few people know how their team's name was derived
Did you ever ask yourself;
what the hell is a Knick?
The New York Knicks are really the Knickerbockers. That name is so dated that hardly anybody realizes that it represents New Yorkers of Dutch descent from the 1600's...who wore a style of pants that were rolled-up to the knees. These pants were called Knickerbockers, (or knickers). Soon, all New Yorkers of Dutch descent were called Knickerbockers and in time, all New Yorkers were commonly called that. So if Knicks fans frown down at team(s) being named after hosiery...they can make a case that the Knickerbockers are
not
named after pants...they are named after people...in strange pants.
THE ORIGINAL NEW YORK KNICKS LOGO (1946-1964) FEATURES "FATHER KNICK" WEARING KNICKERBOCKERS AND DRIBBLING A BASKETBALL.
Did you know that the New York Yankees were called the Highlanders until 1912. When they moved from Hilltop Park, (a ball field at one of the highest points in New York City), they progressed to the Yankee name, (an American). They were doubly progressive because the name Americans had already been used.
More recently, the New York Mets joined the National League when they expanded to ten teams in 1962. Not everyone knows that the name Mets, is an abbreviation for metropolitan, (someone living in a big city). But because the term "Met" doesn't stand on it's own, it comes off as arbitrary or even worse, ridiculous.
The Los Angeles Dodgers left Brooklyn after the 1957 season. For the uninitiated,"dodgers" pertain to moving aside quickly. Or using trickery or cheating, to avoid something...which is an apt name for oft-stereotyped Brooklynites.
The team name (since 1884) was also supported by the Charles Dickens street-wise character from,
"OLIVER TWIST,"
Artful Dodger. When the team moved out west, the Dodger brand name was retained in "La-La Land" mainly because it was a connection to their successful history...and to a lesser extent, the name is also cool and unique.
IN THE LEAN YEARS, THE UNOFFICIAL NICKNAME OF THE TEAM WAS, "THE BUMS."
Interestingly, the term dodgers is an abbreviation. It comes from the necessary skill that people from Brooklyn developed...to dodge trolley cars. In the 1800's, a vast network of trolley tracks crisscrossed Brooklyn (as well as other parts of New York City). An individual who wasn't nimble or paying attention risked being flattened at a busy intersection. This situation was ignobly pointed out in Caleb Carr's novel,
"THE ALIENIST,"
when men at a bar overlooking the treacherous sharp trolley car curve at Union Square, bet on which people wouldn't make it across the street.
Today, common sense would lead us to think that the poor choices of team nicknames in the past would breed an abundance of intelligent, shrewd and profitable names. But I'm afraid...such is not the case with the NBA's Brooklyn Nets.
Today's Brooklyn Nets, under the name the New Jersey Americans, were an original 1967 upstart team of the American Basketball Association, (a rival league, competing against the NBA). Due to a comedy of errors that booted them out Manhattan before the first game, they played their home games in the Teaneck (NJ) Armory. They made the playoffs that year but were forced by more brainless circumstance to desperately relocate to the Comack Arena, on Long Island. When that facility was deemed unsuitable for ABA safety standards that first home game was forfeited to the Kentucky Colonels, (2-0).
THE UNPRESTIGIOUS FRANCHISE BEGAN A NOMADIC EXISTENCE THE FOLLOWING YEAR AND MOVED TO LONG ISLAND. TO MAINTAIN AN IMBECILIC AIR, THEY CHANGED THEIR NAME TO THE NY NETS. AN IMPULSE OF BILE SHOT IN MY MOUTH AS I RECALLED THAT THEY CHOSE THAT NAME ONLY BECAUSE IT RHYMED WITH ESTABLISHED NEW YORK TEAMS...THE JETS AND METS.
The Nets briefly moved in the right direction when they acquired the legendary Julius "Dr. J." Erving and won ABA championships in 1974 and 1976. In 1977 without Erving, they merged into the NBA and moved back to New Jersey. During the next thirty-five years, a legacy made up of long periods of losing and misfortune made the Nets the laughing stock of the NBA, (the negativity was briefly forgotten when they managed to make it to the NBA finals, in both 2002 and 2003...only to lose).
This year, the team moved to Brooklyn. The beautiful Barclay Center in Downtown Brooklyn was built for these tradition cellar-dwellers so fresh start with a renewed vigor was expected. But I was profoundly disappointed. This move was their chance to shed their history of awfulness and rise up and become their own unparalleled entity...but they failed miserably.
Their first gaff that will further entrench them as a non-NBA power was retaining their incredibly inane Nets nickname. Second, at a time when licensed team apparel is a tremendous money maker, they went with a lackluster logo.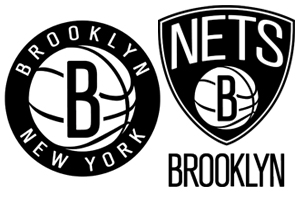 UGH ! DID A MIDDLE-SCHOOLER WIN A CONTEST? WHO MADE THE DECISION TO USE SUCH GENERIC ARTWORK? TAKE YOUR PICK, BOTH DULLARDS SUCK.
To prove I'm venting and not complaining why wouldn't they use something like this.
BUT FAR WORSE THAN THE LOGO AND BLAND BLACK AND WHITENESS...THE ROOT OF THE PROBLEM IS THE NETS NAME.
Luckily current Nets owner Mikhail Prokhorov wasn't around in 1968 when the name Nets was chosen because it rhymes with Jets and Mets. If given the same opportunity, he might have reflected on his Russian lineage and called them, the Nyets (with the "e" backwards). Oddly, considering where they are and where they've been, the Nyets might have been a suitable name after all.
On the other hand, I'm positive if hip-hop master Jay-Z became the Brooklyn Nets owner there would have been a trendier (better) team name, logo and color scheme.
If he would have put me in charge...I would have found a name that befits the borough that welcomes people to town with a sign that quotes Jackie Gleason's, "How Sweet It Is" and wishes them farewell with a "Fuhgeddaboudit," sign.
THOSE TWO SIGNS TRULY ENCAPSULATE MY OLD HOME TOWN FROM CONEY ISLAND TO DYKER HEIGHTS, BEDFORD-STUYVESANT TO SHEEPSHEAD BAY AND FROM GRAVESEND TO CANARSIE.
Brooklynites are from a tough, hardworking, kinda dumb and kinda smart stock. They might seem like they can't be bothered because they are always be in a hurry...but don't be fooled, they have their shit together enough to recognize an injustice and are willing to stand-up for a worthy cause...not necessarily their own. That is why I would never dream of demonizing Brooklyn with disparaging team nicknames like; the Hitmen, Uzis, Carjackers, Crack Whores or Sons of Sam.
I prefer to hearken back to the Brooklyn Trolley-Dodger spirit but with a contemporary, frenzied, yet likable flavor. My brilliant solution would have been to name the Nets, the
Brooklyn Frenetics
! The team would be revitalized and I'd cash in on a boat load of money from merchandising. Plus, the old-guard purists could still call those losers, the Nets, (fre-
NET
-ics)...but I wouldn't...not even if I was getting carjacked with an Uzi pointed at my head.