A friend recently said, "Picture a guy whose mouth has been wired together because he has a broken jaw. For over a month, every time he takes a meal through a straw, he rehashes what he should have to the guy who put him in this predicament. THAT," my buddy continues, "is how I feel every day...for the last forty years about my missed (sexual) opportunity with Dina Newgate."
His confession made me reflect on how my own stupidity cost me some great opportunities too. But rather than dwell on them forever, I choose to make them into...hopefully...funny stories.
The finer details of the following summer of 1977 event are so clear that if I woke up tomorrow and found out I was in a time warp...and it was still 1977...I'd believe it.
My friend Z and I (both twenty-two) were allowed to use the summer home, (in a large bungalow colony) of a mutual friend, (actually his parents). The allure of this road trip near Monticello New York included the usual yaddy, yada like: canoeing, hiking and swimming. But the real reason we went up there was the expectation of "meeting" girls.
We arrived in the early evening of the Friday. By 11:PM, we were in a watering hole (one of the few for miles around) called,
"BEND AN ELBOW."
Two hours later, we accepted that we weren't getting "met." We lingered a little longer...just in case...and left empty-handed at 1:30 AM.
Z was familiar with the area and drove, (in his world famous Z-Mobile), to a tiny (closed for the night) municipal airport. We continued behind the only building (other than the flight tower), along an obscure, unlit, unpaved access road, beyond its only runway. I don't know what Z was thinking but we wound up at the local "Lover's Lane."
TOO BAD THIS SIGN WASN'T IN THE FIELD WHERE WE PARKED.
Under the romantic starlit night, I was glad nobody else was around. Still, I insisted that we sat on the hood of his car during our long heart-to-heart conversion. Included were projections for our next day's activities, as well as planning a big Saturday night destination...other than Bend An Elbow.
We got back after four and watched a TV movie until sunrise. Somehow, we slept the afternoon away. At six, we occupied our self by walking around the complex. That's when we realized that all the kids up there...
WERE KIDS
!
At the basketball court, two perky girls (around sixteen), challenged us to a game. I realized that even if the eyes of a hundred busybodies weren't on us, there was
NO WAY
this could end well. But before I could say;
no
, Z innocently said, "Okay."
I understood that we were playing with children. But foreign-born, nonathletic Z was enthusiastic. So I made a game within the game by making everyone laugh at his spastic style while setting him up to awkwardly score all our points, in a hard fought, Harlem Globetrotters versus the Washington Generals-like victory.
We were parting ways when one of the girls mentioned that the "casino" was open after dark and that it was their big hangout. Again Z agreed to come by before I could
poo-poo
the idea. Afterwards I explained the ramifications of socializing with teenie-boppers. I actually saw the little light bulb over his head turn on when he saw my point.
At around 10:30PM, we were about to leave for Roark's Tavern in Monticello when Z said, "Let's at least see what the casino is all about." I was whining my doubts when he added, "C'mon, what harm can it be, to just look."
Z had the car keys, so I had no choice but to follow him on a path, two-hundred feet beyond the treeline. In the dark forest, we heard raucous rock-n-roll music before we found the isolated, stilted pavilion. Up a short flight of steps, against the grain of screaming adolescent boys, we entered the casino.
All eyes turned to us. The ping-pong game stopped, as did the Foosball, board games, darts, card games and conversations. We were "adults" invading a kiddie stronghold, I felt creepy. I wanted to leave immediately but our basketball foes, in a swarm of giggling young girls around a boom-box, saw us and called us over.
In a sea of twelve to sixteen year old girls, we were the talk of the town. It was so uncool and Z knew it too. By eleven o'clock, we were getting strange looks from the parents who were dragging their brats out. Soon, the basketball girls left on their own, as did a tiny boy with the boom-box. In the sudden quiet, Z and I got involved playing bumper pool.
THE GAME DIDN'T SEEM CHILDISH. WE FORGOT ABOUT DRINKING AND PLAYED FOR A LONG WHILE.
In the far corner of the casino, there were three young women quietly taking turns playing Othello.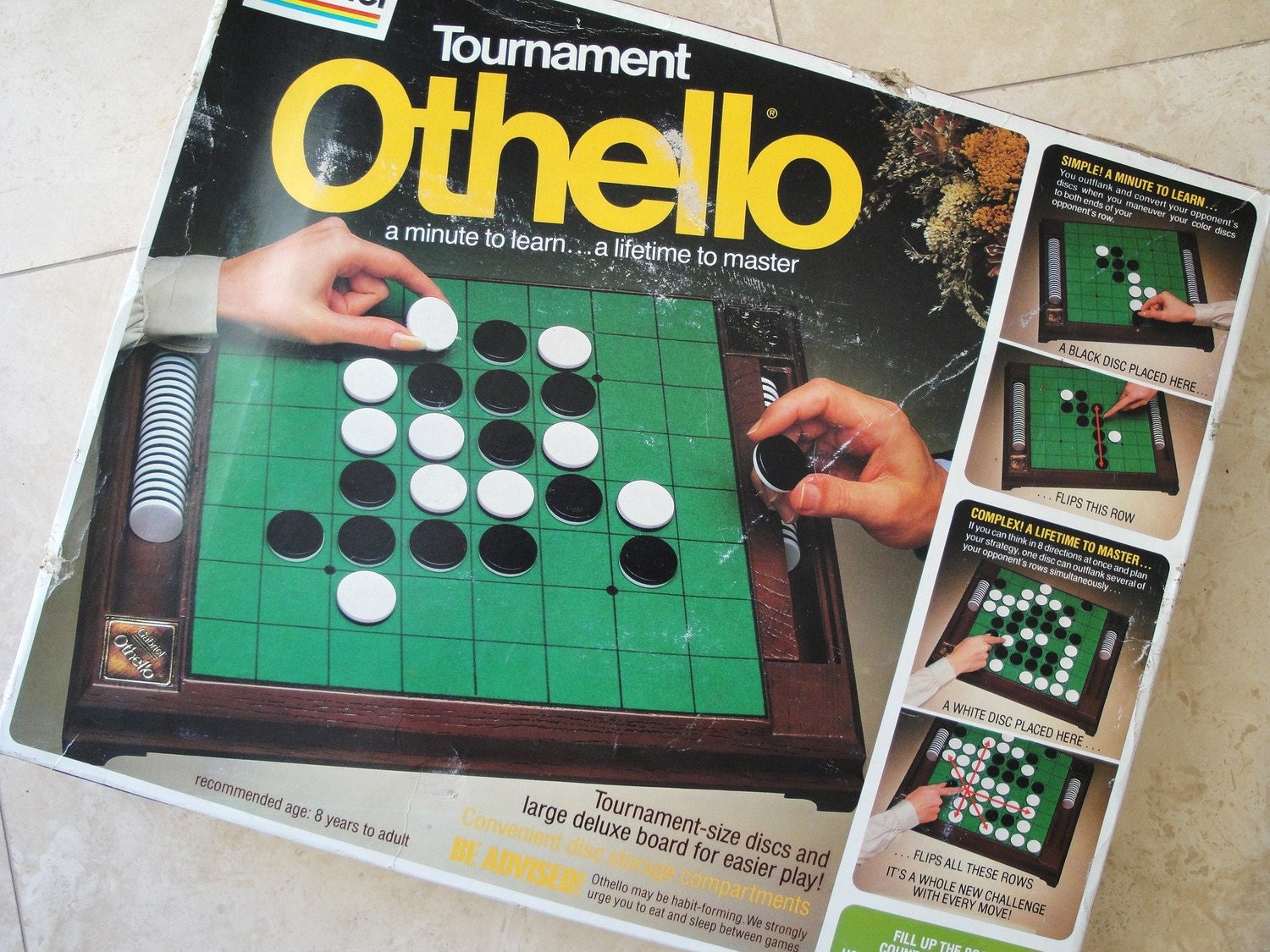 "A MINUTE TO LEARN, A LIFETIME TO MASTER." OTHELLO, INVENTED IN ENGLAND (1883), IS A GAME OF STRATEGY, TACTICS AND OBSERVATION. THE SHAKESPEAREAN NAME IS DERIVED FROM THE CONFLICT BETWEEN THE MOOR OTHELLO AND IAGO, (THE SELF-DESCRIBED TWO-FACE). SOME PEOPLE SUGGEST THAT THE GAME'S PIECES, REPRESENT OTHELLO (A BLACK MAN) AND DESDEMONA (WHITE). ALSO THE BOARD WAS INSPIRED BY THE GRASSY BATTLEFIELD THAT GENERAL OTHELLO LED HIS TROOPS ON. GREEN ALSO SYMBOLIZES THE MAIN THEME OF THE PLAY, JEALOUSY (ENVY).
The girls stop playing and were tidying up. The shortest one called out, "I have to shut the lights." When they approached, Z and I could see that they were about our age. The middle-sized girl continued out and left. The spokesman, (April, the short girl) said, "It's midnight, I have to lock-up." We went down the steps with the taller girl as April fumbled with a huge keyring.
When she came down Z said, "We're going to Roark's. Wanna come?" April gravitated toward him and said, "Me and Shelly have to stick around." Shelly stood next to me and smiled, "Hang out with us, we don't have to drink to have fun."
At a picnic table, lit by a distant floodlight in the parking lot, our fun took the form of them teaching us the card game hearts.
HEARTS IS A FOUR-PLAYER, "EVASIVE-TYPE," TRICK TAKING CARD GAME. ALSO KNOWN AS; BLACK LADY, THE DIRTY, DARK LADY, SLIPPERY ANNE, CHASE THE LADY, CRUBS AND BLACK MARIA. THE OBJECT IS AVOID TAKING IN POINTS, (ONE POINT FOR EACH HEART AND THIRTEEN POINTS FOR THE QUEEN OF SPADES).
During the festivities, we explained that we were using our friend's bungalow. Both girls said that they knew our friend, his parents and his younger brother and sister.
During a lull, Shelly got my attention with an arousing game of footsie, (and I joined in). At the same time, I could tell by the way Z and April were gaping at each other that a similar vibe was going on between them.
Suddenly Z said, "I'm in the mood for some Grand Marnier."
GRAND MARNIER LIQUEUR, SINCE 1880, IS A BLEND OF COGNAC BRANDY, DISTILLED ESSENCE OF BITTER ORANGE AND SUGAR.
Shelly butchered the name and said, "What's that?" It was a good question because other knowing it was booze, I didn't know the particulars either. Z explained but April got defensive, "How should we know, we're only seventeen." When she saw our bulging eyes, she used her feminine wiles to change the subject, "I know, I can open up the casino...if we're quiet and leave the lights off, we can have plenty of privacy."
Shelly held my hand and April locked arms with Z and gave him a squeeze after we entered the blackened woods. Our love nest was in sight as I was thinking how the girls looked younger than us but I had assumed they were at least eighteen, (New York State's legal drinking age). My conscious got the better of me so I barked, "Z, we gotta go."
Back home, a few days later, I got a phone call from Shelly. She asked me if I wanted to see the "ROCKY HORROR PICTURE SHOW."
THIS 1975 BRITISH/AMERICAN COLLABORATION WAS A HUMOROUS, MUSICAL TRIBUTE TO "B" HORROR FILMS. IT STARRED, TIM CURRY, SUSAN SARANDON, BARRY BOSTWICK AND MEAT LOAF. BY 1977, IT GAINED A CULT FOLLOWING AS A MIDNIGHT MOVIE WITH THE AUDIENCE PARTICIPATING IN THE ON-SCREEN ACTION. STILL IN LIMITED RELEASE TODAY, IT HAS THE LONGEST CONTINUOUS RUN IN MOVIE HISTORY. IT IS SO SPECIAL THAT IN 2005, THE LIBRARY OF CONGRESS SELECTED IT FOR PRESERVATION BY DECLARING IT, CULTURALLY, HISTORICALLY OR AESTHETICALLY SIGNIFICANT.
I didn't want to get involved with jail bait. But Shelly was persuasive, "Everyone says it's the coolest movie...ever!" I was so uncool, I had never heard of it. She continued, "It's only shown Saturday's at midnight, at the Waverly Theater in the Village (Greenwich)."
In 1973, I had seen a midnight showing of, "THE EXORCIST," and thought it was the the greatest movie experience I ever had. Plus I had seen classic oldies at midnight like, "FREAKS (1932)"and "REEFER MADNESS (1936)" and more contemporary gems like, "PINK FLAMINGOS (1972)" and "FEMALE TROUBLE (1974)" and loved them all.
POPULAR ON UNIVERSITY CAMPUSES IN THE 1970's, THIS GRANDDADDY OF ALL MIDNIGHT MOVIES STARRED ACTUAL DEFORMED CARNIVAL PERFORMERS. IT REMAINED NUMBER ONE IN THIS UNIQUE GENRE UNTIL THE ROCKY HORROR PICTURE SHOW ASSERTED ITS DOMINANCE.
Still it gnawed at me that I was a college graduate and Shelly was going to be a high school senior. But I wasn't seeing anyone and the more she pitched me, the weaker my resolve got. I was rationalizing that she was mature for her age when she said, "I was seventeen and a half in May." I thought; what could possibly happen on a first date? Then I caved in and made the arrangements.
I was supposed to pick her up at 9:30 but got tied up with other things, so I had to hurry home. Before jumping in the shower, I emptied my pockets and set everything on my TV. I saw that my Mets were already losing 5-0 and they only had one hit through six innings. I was pissed off when I switched off the TV, changed hurriedly and sped the fifteen minutes to Coney Island.
Shelly lived on the tenth floor of a high-rise apartment house. In addition to being late, I hated the whole "meet the parents" ordeal while the girl (intentionally?) stalls in her room while her folks interrogate you. I was especially unnerved because a five-year difference (even a four and half year difference) should be a colossal red flag to a concerned parent.
The tone of the evening was set when Shelly answered the door. The only thing more enticing than her smile was that she was wearing a tight t-shirt and short-shorts. When she hugged me, I was surprised that she wasn't wearing a bra. My surprise turned to shock when she yelled back into the apartment, "Bye mom." Then a distant hoarse voice rasped, "Don't come home after four or I'm double-locking the door!"
In the car, Shelly sat at a normal distance away from me. But without impressing her with brilliant conversation, by the time I got on the Brooklyn Bridge, she was nuzzled up to me as if we were dating for some time.
THIS ARCHITECTURAL WONDER WAS COMPLETED IN 1883. WITH TIME ON MY SIDE, I RISKED HEAVY TRAFFIC FOR THE BEAUTIFUL VIEW (COMPLETE WITH THE TWIN TOWERS). SO DON'T THINK I WAS BEING THRIFTY WHEN I AVOIDED THE TOLL ON THE FASTER, UGLY DRIVE THROUGH THE BROOKLYN BATTERY TUNNEL.
I was enjoying Shelly's company. She was sharper than I expected, funny and easy to talk to. My luck kept improving when we got to the Village. Before passing the Waverly, I found an unheard of free parking spot, four blocks up from the theater. Then after some window shopping, along our way, we found a street magician performing on our destination's corner.
MANHATTAN'S WAVERLY THEATER, (323 SIXTH AVENUE, AT WEST 3rd STREET), WAS BOARDED-UP IN 2001 AND LAID DORMANT FOR YEARS. IT WAS FINALLY CONVERTED INTO AN ART MOVIE HOUSE AND TODAY IS CALLED, THE IFC CENTER (INDEPENDENT FILM CHANNEL).
In the magic act's crowd, I stood behind Shelly. After a while, I put my hands on her upper arms. That's when she started to gently grind her back...into my front. I was starting to peck her neck when the magician announced his grand finale. When the big trick was done, he took off his big black hat, bowed and said, "Thanks for being such a great audience." Then he placed the hat on the ground and said, "Now that the pick pocket has gone, those of you who still have money, please donate as much as you can."
Several people were stepping forward and dropped in a buck or two. I reached for my wallet...and it was gone. I advanced to the magician and blasted, "This pick pocket, do you know him?" He said, "Pick pocket? Can't you dig it? There ain't no pick pocket...that's just me being Hollywood." I said, "I'm getting a cop!" He said, "Go ahead but when I snap my fingers, I'm going to vanish."
I was bummed. I had no money, ID or credit cards. My mind was spinning about the aggravating three-hour wait at the DMV to replace my license, the hassle of getting other new ID and my irreplaceable photos. I was even more devastated when I thought about explaining to my folks how I already lost the Gucci wallet they gave me for graduating college.
Shelly snapped me out of my funk and said, "Calling the cops is a waste of time. C'mon, let's search all the garbage cans, maybe the asshole just took your cash and tossed everything else."
Like a dynamo, Shelly was a champ as she sifted through at least ten garbage cans on both sides of the theater. I was blinded by my self-pity and too stupid to realize how supportive this wonderful girl was. Then I made a real mope out of myself by saying, "I'll take you home now."
We were walking back to my car, under the Waverly's marquee when she said, "You don't have to spend money on me, we can still do something." I was shaking my head when I heard my name called. It was a good friend GB and his girlfriend at the ticket booth. I told him my situation and he spotted me a twenty.
I was temporarily revitalized as GB said, "The show doesn't start for a half hour." Then he suggested that we go into the bar next door. I was still so absorbed in my problems that it never crossed my mind that my date was underage. We went in. Shelly carried herself so well that my friends (and the bartender) never suspected that she was a minor.
The two girls were sitting on stools next to each other and GB and I stood in front of them. My mind was a million miles away as I projected the sequence of my recovery mode...which would have to wait till Monday.
While my mind drifted, the three-way conversation between them, mainly about the movie, flowed nicely. Even though they all never saw it, they seemed to know all the ins-and-outs. I guess Shelly was feeling neglected as the affect of her second V-O and Ginger set in. That's when she took my hand, tugged me closer and guided my fingers up the inside of her naked thigh. I sprang to attention and said, "Let's go in and find seats."

"THE ROCKY HORROR PICTURE SHOW,"
itself is pretty silly. But the hardcore regular audience (some in costume and/or props) become an entertaining sideshow as they interject appropriate dialog while interacting with the movie. Interestingly, I over heard a girl in a wedding gown brag that she had seen it every week since February. In the end, the songs were so memorable that most Baby-Boomers, still know the lyrics.
THE BEST SONG (AND DANCE) PERFORMED (above), IS "THE TIME WARP." OTHER GREAT SONGS WERE; "SCIENCE FICTION/DOUBLE FEATURE," "DAMMIT JANET," "OVER AT THE FRANKENSTEIN PLACE" AND "SWEET TRANSVESTITE."

CLICK ON THE LINK BELOW TO SEE THE 3:07 "TIME WARP" YOUTUBE VIDEO.
While many of the mostly hippie audience alternated between the film and necking, so did Shelly and I. In so doing, she thanked me for taking her in several ways. Abruptly, she ended a heavy make-out session and said, "Let's go get some candy." I was getting myself in the mood for some Raisinets as we approached the exit to the lobby. Just before the door Shelly said, "The candy I want, is up there." She took my hand and detoured us, up an unlit flight of steps that led to the projection booth. To this day, I regret my blown opportunity. Because in that quiet nook, I don't know if it was her age, the shame of feeding her alcohol or my own modesty that made me stop her from making my life very good.
GB seemed impressed by me when we returned to our seats without any candy. Later on the way out, he whispered to me, "She's great!" I said, "Yeah but..." He said, "But what? You got a horny little vixen there." I said, "No, this is all wrong, she's only seventeen." GB punched my arm and smiled, "Cradle robber..."
Outside, the girls suggested we get a bite. Between the guilt and my depression, I turned them down.
The drive back to Brooklyn at first was quiet. I had succeeded in being the ultimate buzz-kill and remained pre-occupied with my troubles. At the highway exit to her neighborhood Shelly cooed, "It's too early to go home, let's go to the El Greco (diner).
I really wanted to go home but I realized that I was being a prick. When I okayed the idea she hugged me and said, "All I want is fries and a coke."
When Shelly ordered I told the waitress, "I'll have the same." Our disjointed chat was going nowhere for ten minutes until she said, "You are coming upstairs, right?" "Well yeah, I'll see you to the door." When the waitress set down our order Shelly said, "Silly boy, you know that's not what I mean." I was fumphering for words as she opened the ketchup but nothing came out. Shelly beat on the bottom of bottle several times but still nothing. She took a long French fry and said, "I know something about you..."
She had my full attention when she seductively shoved the fry into the bottle's mouth. Shelly's tongue darted from one corner of her lips to the other as I said, "You know what about me?" Slowly at first, she jabbed the fry in and back out of the bottle. The process gained speed. Within a short time, she was frenzied as she repeatedly pounded it in and out.
I squirmed in my seat as the ulterior motive of her hot demonstration became obvious. Suddenly her maneuvering came to a climax as a blood-like gush, spewed all over her plate. She looked up from her handiwork and sighed, "I know you're a first timer?" I said, Heh?" Shelly shrugged, "A virgin..." I gagged and croaked, "No."
On the ride elevator up, she was ready to go back down but I stopped her. At her door I said, "Good night." She said, "Aren't you coming in?" "What about your mom?" "Mom's so downed-out, we could have the Rocky Horror Show in her room and she'd never open an eye." I said, "Nah. But I'll call you."
Like a guy with a busted jaw wondering how he could have handled the situation better...I still sometimes fantasize how my life would have changed if I went in.
You might think it's impossible to screw up as badly as I did...but it gets worse. When I got home, on the floor in front of TV...was my wallet. The crowning achievement of my idiocy was...instead of phoning Shelly and making a big joke out of it, so we could start again...I never called...and neither did she.
If I needed to have my stupidity amplified more, I saw Shelly on Kings Highway (Brooklyn) about a year later. It was like a time warp. I started feeling warm and fuzzy inside as if our one date was successful...and the day before. She and (I'm guessing her mom) were having a loud argument about Shelly quitting a job. I smiled at Shelly when she turned around. When she saw it was me, she grabbed her mom and hustled away.